If you wear dresses or know someone who does, then you also know this: if a dress has pockets, everybody in the world must know. Waiting at a stoplight? "It has pockets!" Making small talk at the elevator? "It has pockets!" Accepting a Nobel prize? "It has pockets!"
That's how my new bike makes me feel: "It folds!"
This is a review of the ChangeBike DF-702 model from the perspective of a casual, mostly sedentary female transport cyclist. I've had this bike for three months, commuting a minimum of 3 miles every weekday in the Boston area. This review is written mostly with casual bikers in mind, so you won't find detailed discussion of specs here.
(I'll be using bike jargon at some points in this post. If you're unfamiliar with the terms, just refer to this great graphic by Aaron Kuehn.)
If Change bikes interest you, use my referral code 4624JIE for 5% off everything at Flatbike.com – including accessories that work on your current bike, like removable pedals and folding stems. I get a small bonus, and you get a sitewide discount that adds up on a high-end bike purchase.
A little backstory
I'd been flirting with the idea of getting a new bike for years. My first "real" bike was a 1950s Raleigh Sports purchased in college. Beautiful machine, but at 45lb with fenders and rack, I couldn't carry it out of my basement without getting a terrible headache. It also had some vintage features I didn't appreciate, such as steel rims with zero stopping power in the rain.
With summer coming around, I started thinking about bikes again. I wanted: cute, pretty, step-through "women's frame", internally geared, all-weather coaster or disc brakes, lightweight, inexpensive…essentially, my old bike, but lighter and weatherproof. I went window shopping online a few times, eventually realizing that my dream bike didn't exist. (The Priority Classic Plus was the most appealing of my non-folding options.)
While browsing a discount coupon site one day, I found Flatbike, clicked through, and realized that a) folding bikes didn't have to look awkwardly small and dinky, and b) the DF-702 was on steep discount.
I suppose my story is a case study in what not to do: impulse-buying a bike sight unseen off the internet because it's on sale. If I were doing this all over again, I would start by understanding my use cases and needs, doing research on how to meet those needs, then test riding as many bikes as possible. Turns out it's really hard to know what you really want in a bike if you're inexperienced.
Aside: A friend recently purchased the Brilliant Bike Mayfair, one of my other candidates when I was bike shopping. Having now tested it, I wholeheartedly do not recommend – spend your money on a different bike. The Mayfair looks like a cheap toy in person, is unsafe for riding in traffic (no backup brake system) and is geared too high (difficult to pedal) for most casual riders.
ChangeBike, Flatbike, what's the difference?
Change, or ChangeBike, is a Taiwanese bike manufacturer specializing in full-size folding road and mountain bikes. Founded in 2009, they claim the rather pragmatic goal of "[changing] folding bicycles so as to better suit the world, rather than [waiting] for the world to change so as to better suit folding bicycles".
Change bikes are distributed in the USA (and worldwide) by Flatbike.com, a company based in Washington. Flatbike also stocks a range of accessories related to, well, making your bike flat – such as removable pedals and bike stems.
As far as I can tell, contacting Flatbike just sends you straight to the CEO, Bob Forgrave. You can also call him, but since I share my generation's aversion to phone calls with strangers, I stuck to lengthy email threads. He was very patient and answered every dumb anxiety-driven question I had, from how to use gears to a few thousand words of stress about picking the right size bike. Customer service like that is rare to find, which is why I'm more than happy to recommend Flatbike to other people looking at buying Change bikes. [Edit 8/25/19: Flatbike also recently posted a video of what their QC process looks like before bikes are shipped to the customer.]
Enter the ChangeBike
If it wasn't evident already, the ChangeBike DF-702 is a full-size folding flat bar road bike. It looks and rides exactly like a "regular" bike, with big wheels and a classic triangle (diamond) frame. Though the bike will handle brief patches of gravel and dirt, it's designed to be ridden mostly on smooth surfaces. That also means the frame doesn't have any suspension, and is designed for tires on the skinny side, with minimal clearance for fenders.
The bike comes in black or white, with silver components throughout. The white bike has a glossy finish, while the black has more of a semi-matte sheen. The frame design is classic, but the slightly sloped downtube and wide tubes clearly indicate that this is a modern bike. (Don't worry, it still matches hipster outfits.) The tubes on the black bike appear thinner and sleeker than they do on the white, but I ended up picking the white bike for visibility and, uh, accessory-matching reasons.
The specs that matter
Weight: 25lb or 11.5kg (not featherweight, but perfectly manageable for a woman of less-than-average strength)
Wheels and tires: 700c wheels x 25mm tires (big wheels, skinny tires)
Gears: 3×8 gear speeds (more than enough)
Commuter features: Caliper brakes (less performant in rain and snow, but still very reliable). No fenders (not much room for them either). No rack (rack compatible)
Riding style: Fairly relaxed geometry (upright-ish riding position – see sizing/fit section)
Bonuses: Kickstand and clip-on saddle bag included with Flatbike purchase
Safety: EN 14781 certified (a highly detailed 2005 European standard for the safety of racing bikes; Change manufactures the only folding bikes that pass this certification)
Why a folding bike? And why full-size?
The promise of a folding bike is convenience. Take it on the train, store it in your tiny apartment, stash it in the trunk of a sedan without fiddling with tools and racks. You don't need to change your lifestyle for the bike; instead, the bike changes to fit your lifestyle. Folding bikes are particularly great for people without cars, vastly increasing one's emission-free range of travel, and providing last-mile transportation when combined with public transit or rideshare services over longer distances.
That said…I didn't really consider any of that when buying the ChangeBike. I got the bike mostly because it was cool, and started coming around to all the other benefits of folding bikes afterwards. I mean, think about it: the most efficient transport machine ever created, folding like paper to the size of a carry-on luggage bag. That's pretty neat.
As for the size? Aesthetic reasons. Sorry, Brompton riders of the world. They're truly cute bikes, just not for me. (Larger-wheeled bikes also have a few more ride-oriented benefits, such as smoother rides on crappy roads, and more momentum for efficiency on longer rides.)
Other folding options
In the world of folding bikes, there are many big-name companies: Brompton, Dahon, Bike Friday, Tern. But full-size folding bikes are a little harder to find; Montague (headquartered in Cambridge MA!) has a great reputation, as do Tern, Airnimal and a handful of other manufacturers. (Then there's Fubifixie, the Indiegogo bike estimated to ship in June 2016 and…still in production as of August 2019.)
Note that even within the category of full-size folding bikes, there is a huge variety in frame designs and tire sizes. Tires can range from 24″ to 29″ (700c), and frames vary in the number of tubes and folding points they have. For example, the Tern Eclipse X22 looks very different from the Change DF-702, even though they both are "full-size".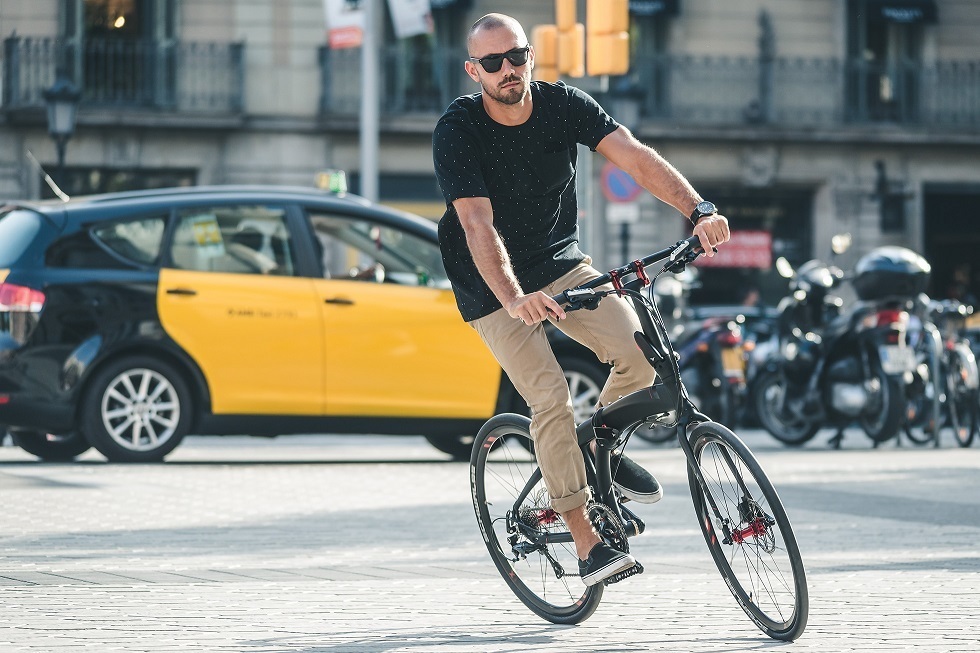 If Change bikes interest you, use my referral code 4624JIE for 5% off everything at Flatbike.com – including accessories that work on your current bike, like removable pedals and folding stems. I get a small bonus, and you get a sitewide discount that adds up on a high-end bike purchase.
Purchasing and assembly
I wasn't sure about sizing, and traded a few emails with Bob at Flatbike about whether what was in stock would fit. We settled on "it might", and since he offered free returns, I decided to go ahead and order the bike.
The bike comes mostly assembled. Flatbike includes instructions for finishing it up, a sheet explaining the quality checks conducted before shipping, plus a free set of Allen (hex) wrenches – a thoughtful gesture that this bike newbie really appreciated. The primary latch mechanism on new bikes can be very stiff, so watch out for pinch injuries. Assembly was easy and took about half an hour, after which the bike was ready to ride.
If you've never attached a quick-release wheel before, YouTube is your friend. It helps to make sure the quick-release lever is on the same side as it is on the rear wheel – on my bike, that's the left (non-derailleur) side. This seems to give better results when centering the wheel between the brake pads.
Lastly, note that if you buy the bike from a different distributor or directly from Change, your assembly instructions may be different. Here's the official Change unboxing video for this bike:
Sizing and fit
I was very conflicted about which frame size to get (M or L) so Bob went above and beyond, sending me two bikes to compare even though I'd only paid for one. Unfortunately, the result was me being stuck in bike fit hell for well over a month. It sucked, but on the plus side, I now know way too much about bike fit for a "casual" cyclist.
Knowing your dimensions is incredibly important when buying a bike online. I am 5'7″ (170cm) tall with an inseam 31-33″ (78-84cm) depending on who is doing the measuring. This is a longish inseam for my height, which led to some sizing problems.
The L bike felt powerful – like a Harley, or what I imagine a Harley to feel like, anyway. But the top tube was clearly too long for me; I needed a tiny 60mm stem with a 35 degree rise just to reach the handlebars without shoulder pain, and would have preferred something a little shorter still.
The M bike felt more nimble, more like I was in the bike instead of on it. Eventually I kept it, but only after adding a 75mm stem with a 35 degree rise. The M has a much shorter head tube than the L, so the handlebars are lower relative to the saddle, putting me in a position more aggressive than I'd initially hoped for. However, I got used to it in a few rides, and now have no complaints.
The ideal size for me is likely a M bike with a slightly taller head tube, allowing me to get more upright. Alternatively, a L bike with a shorter top tube would have let me reach the handlebars without resorting to very short stems.
The myth of the unisex bike
Bike sizing and fitting are particularly tricky for women because a "unisex" bike designed for a man of a given height is probably designed for longer arms and shorter legs than a typical woman of that height. This means that the stock handlebars are too far away from the rider's body, requiring more forward lean than most casual cyclists find comfortable. It also means that a bike of the correct length is likely to require a high saddle for proper leg extension when pedaling. The higher the saddle relative to the handlebars, the more forward lean required to reach the bars when riding.
If you know the geometry (dimensions) of a bike that you like, the Change website provides geometry charts for comparison; Flatbike also provides a recommended size guide on their product page. The recommended rider height assumes a typical male body; inseam length is a better guide.
It's also worth having an idea of which riding positions you prefer. If you're just starting to bike, the Dutch or City positions shown below will be the most comfortable. This means you'll want to look for handlebars that allow positions slightly higher than the level of the saddle, and/or handlebars that are close to the body (e.g. swept-back bars).
Bike size and fit preferences also change over time as your body and mind change, so there's no real replacement for butt-in-saddle time with a bike you're looking to buy. My understanding is that Flatbike is trying to build an ambassador program, where existing ChangeBike owners can volunteer to let people test ride their bikes. I'll probably sign up as a volunteer once it gets started, so keep an eye on their blog if you're in the Boston area.
Folding the bike
So how does the folding work? It can be a little confusing the first time, though it becomes very quick after you're used to it. First, rotate the pedals so they're not blocking the frame from folding. Next, open the primary latch on the seat tube and push the frame down to disengage the interlocking teeth. The frame then easily swings in on itself around the downtube axis.
Taking the front wheel off is optional for some use cases, as folding the frame provides most of the space savings; removing the wheel just compacts it further and allows you to do the kickstand lock (see next paragraph). You also don't have to remove the pedals or fully lower the saddle. I've had no problems getting the bike into car trunks this way.
If you have a kickstand (preinstalled on Flatbike shipments), you can hook it under a latch on the front fork to lock the bike into a fully rigid position. It's a very clever design. I'd argue that the kickstand is necessary for transporting the folded bike over longer distances, since it's prone to flopping open without being locked. But Change sells it as a separate accessory, so make sure you're getting one from your distributor.
Surprisingly, the M and L bikes fold up to the same size.
To unfold, simply reverse the folding steps. Reattaching the front wheel is the most time-consuming part of the process. To get it centered between the brake pads, it helps to tilt the wheel slightly away from the kickstand, or hold it in between your knees.
The Change DF-702 as daily commuter
I've put over 250 miles on the bike so far, mostly on roads and sidewalks, with the occasional gravel path in a park.
Ride quality
I'm a casual cyclist, so all I'm qualified to say is that the bike feels great. The build quality is very good, and Flatbike ships the bikes already tuned-up so they're ready to ride after assembly. Shifting is smooth and reliable, though I've only stayed within the middle range, about 5 of the 24 available gears.
The skinny tires made me nervous when I first saw them, but those fears turned out to be unfounded. The steel fork and big wheels will handle most things you throw at them. Riding on crappy roads still isn't a nice experience since there's no suspension, but the bike has no problems with very bumpy roads, medium potholes, and raised bike lanes that suddenly end (thanks, Boston). Most of the time I forget that I'm on a folding bike at all – until it's time to tell someone about my bike, of course 😉
While researching bikes, I also test rode a Dahon small-wheel folding bike. It was a nice bike, but I felt a bit like I was riding a toy, as the steering was very twitchy and it felt almost too nimble. This is an advantage in city traffic where you're constantly starting and stopping; for me, going at high speeds on a bike like that would be too scary, and I prioritize avoiding scary experiences. I feel more comfortable on the familiar full-size geometry of the Change bike.
Practical concerns
Although the DF-702 is compatible with all standard bike parts in theory, you're going to want to make sure that modifications don't interfere with the folding. So far I 've installed an M-Wave Arrow rear cargo rack per Flatbike's recommendations (the rack doesn't come with instructions, so I'd recommend taking it to a shop for installation instead of wasting 3 hours like I did). At least two people have added aerodynamic drop bars: one other Flatbike customer, and Ekaputra Jabar at Folding Tales. If you take the bike to a shop for upgrades or fixes, make sure to mention the folding – some bike shop mechanics I've interacted with have overlooked the latches and assumed that it's a non-folding bike.
I also ride with an old set of saddlebag-style panniers from the Van Gogh Museum, which are joined at the top and drape over the rack. Most "serious" cyclists frown on saddlebags that connect at the top, but they act like a rear fenderboard, keeping me a little cleaner in wet conditions. Since they're entirely made of soft fabric, they fold when the bike folds, which is convenient. And they're cute!
I do wish there were more clearance in the frame for full, permanent fenders. (Fenders will fit, but will be tight. Flatbike has a post with recommendations.) But the white frame has remained surprisingly clean despite biking through rain and puddles a few times.
I was initially nervous about biking on a frame with a horizontal bar (cf. a step-through frame, which is what my Raleigh has). It took a little initial adjustment, and I still mess up sometimes, but I'm pleased to report zero problems with outfits and mounting/dismounting. (I'll post some of my hacks for biking in short skirts in the future.)
Was the folding worth it?
These bikes are not cheap. Even though I got mine on sale (I'm not in a place to pay full price for this bike!) I figure I still paid around a $300 premium for its folding capabilities. Was it worth it?
On the whole, yes.
First, my complaints. 2D product photos don't really give you a sense of what the bike is like when folded. It's important to remember that folding it doesn't make the bike lighter, just denser! The folded bike is bulkier than you might expect, since it ends up in more of a wedge shape than a flat package. For me (a weakling) it can be unwieldy, so if I need to transport the folded bike for more than a few minutes, I end up wheeling it. That said, male and/or stronger friends have carried the folded bike with no problem and commented on how light it is.
The convenience factor also doesn't always get to shine when you're in social situations. I've gone on a few weekend rides with friends where I got tired and wanted to take a rideshare back, but because their non-folding bikes didn't fit in the back a car, we ended up having to bike home anyway. The curse of having superior technology, I suppose…
So why do I say that the bike was worth it? My life isn't particularly structured, and I value freedom and spontaneity. The folding aspect of this bike means I have a backup plan for surprises in weather conditions, routes and plans. Some examples of when it's come in handy:
When I was running late to an appointment, I could stick it in the back of a Lyft and arrive on time without jettisoning my bike in a far-away part of town.
I've folded the bike to get it up multiple flights of very narrow stairs into an apartment.
I stuck it in a colleague's car for an impromptu trip after work to Trader Joe's, then biked home with groceries.
One time I didn't feel comfortable locking the bike outside a rehearsal venue, but got looks when I tried wheeling the unfolded bike in (even though bikes were not prohibited). I folded the bike, put it in a corner, and was able to relax knowing it was inside the building for the whole four-hour rehearsal without pissing anyone off.
I've stored it in a corner of my office when I accidentally leave my lock at home.
There was a commenter on someone else's YouTube review of this bike who was nickel-and-diming how the bike wasn't worth it compared to a non-folding bike of the same quality. Their calculations mostly assumed that the bike's value lay in being able to pop it in your car without a bike rack. I mean, yeah, if you're a suburbanite with a huge garage and a giant SUV, this probably isn't the bike for you. Take that money and buy a really nice new bike! Or several nice secondhand bikes.
I don't need carbon fiber or care too much about having racing-grade components, but I do care about having a bike that doesn't cramp my style. For me, the premium is a fair price for always having the reassurance that no matter the situation, my bike will be safe, and I'll be able to get home on my own terms.
Biking changes you
Going from no biking at all to almost-daily commuting was a big adjustment – mostly a psychological one. The first ride I took with the bike was with a friend who commutes everywhere by bike…in heavy traffic through one of the busiest roads in the Boston area (home of the second-worst drivers in America). I was terrified.
But I also loved it. Biking gives you a sense of empowerment that is hard to match. Yes, I've had to get used to terrible roads and aggressive cars. But when I had to take public transit at rush hour a few weeks ago, I realized I'd also gotten used to getting places quickly, entirely under my own power, not having to worry about delays or areas not serviced by public transit. When I bike, I feel like I'm flying, the breeze on my face, all senses engaged and alert.
I think I might also have become more fit? There's still plenty of padding on my frame, but my quads are noticeably more prominent when I flex my legs. Wanting to have better posture of my bike made me go to a Pilates class (!) and is making me more mindful of my core. My muscle mass, while still embarrassingly low, is the highest it's been since 2016. And 20 minutes of cycling every weekday (as opposed to about 20 minutes of walking when I took public transit) seems to have made me a little more active on the weekends. A few weekends ago, I actually missed moving and went to the gym entirely of my own accord (!!).
I still get stressed out by cars and aggressive pedestrians, and I still can't bike confidently with one hand for more than half a second. My back starts getting sore if I ride for too long on a bumpy road. But I know these things will get better with time and practice. For now, I'm just enjoying my bike and my newfound freedom – while the summer lasts, anyway. Stay tuned for a winter update…
If Change bikes interest you, use my referral code 4624JIE for 5% off everything at Flatbike.com – including accessories that work on your current bike, like removable pedals and folding stems. I get a small bonus, and you get a sitewide discount that adds up on a high-end bike purchase.
Further reading
Here are links to some of the reviews and resources I read when trying to decide on a bike, and afterwards when I was getting started biking. These are good starting points for diving deeper into the world of cycling for transportation.
Other reviews of Change bikes
Fit and sizing
Commuting and urban biking
Thanks for reading all the way to the end! I'm hoping to post more in the future about biking from a female/nonbinary/gender nonconforming perspective. In the meantime, let me know if there are more questions I can answer, photos or angles you want to see, and future blog posts you'd like to read.